Tax Masters Adds Another $5,000 to USA Archery for Tony Rivera's Second Podium Finish in the 2009 SPEED World Challenge GT
Tax Masters, title sponsor for Brass Monkey Racing, makes good on its pledge to donate an additional $5,000 to USA Archery as a result of Tony Rivera's third-place finish at Mosport in the number 97 Tax Masters Porsche 911 GT3. Tax Masters looks forward to adding another $5,000 every time Rivera reaches the podium this season in the 2009 SPEED World Challenge GT.
Houston, Texas (PRWEB) May 20, 2009 -- Future Olympians were smiling again on Sunday when Tony Rivera and the Brass Monkey Racing team placed third in the SPEED World Challenge GT race held as part of the Mosport Victoria Day Speedfest Weekend. Rivera received the Sunoco Hard Charger award for advancing four places over the course of the race and moved up to second in the overall points standings with the impressive finish.
(Photos) Tony Rivera in the #97 Tax Masters Porsche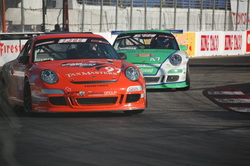 Tax Masters, a tax representation and resolution firm located in Houston, Texas, agreed earlier this year to a one year sponsorship of USA Archery's Resident Athlete and Junior Dream Team programs at the Olympic training center in Chula Vista, California. As title sponsors of the number 97 orange Porsche fielded by Brass Monkey Racing, Tax Masters pledged to contribute an additional $5,000 to support USA Archery every time driver Tony Rivera reaches the podium in the World Challenge GT series this year.
When Rivera placed first in his debut race in the series at Sebring in March, Tax Masters was pleased to present the first of what they hope to be many $5,000 checks to USA Archery. After impressive top-ten finishes at Long Beach and New Jersey Motorsports Park, Rivera made his way back into the top three on a cool sunny day at Mosport. As a result, Tax Masters will make good on its pledge for an additional $5,000 to go to USA Archery.
Several Olympic Archery hopefuls made the trip from Chula Vista to Long Beach in April to check out the #97 Tax Masters Porsche, meet the Brass Monkey Racing team, and watch Rivera claw his way to a hard-fought seventh-place finish. Jeff Stone, Crew Chief for Brass Monkey Racing and co-owner of Kelly-Moss Motorsports, gave the hopefuls a tour of the car and answered their questions in the paddock before the race began.
The SPEED World Challenge GT series is being televised on the SPEED channel. Scheduled upcoming races include Long Beach on May 22 at 2 p.m., New Jersey on June 16 at 2 p.m., and Mosport on July 7 at 2 p.m. All times are eastern and are subject to change. The World Challenge offers sports car racing in its most pure form, with no scheduled pit stops and a pack of competitively-matched cars.
Founded in 2001, Tax Masters is a leading tax representation firm, offering tax relief solutions for U.S. taxpayers experiencing problems with the IRS. The tax resolution company continues to expand to meet an ever increasing demand for tax representation in the U.S.
###